As a business owner, you may feel like you're finally getting a handle on all of the internet lingo – domain name, SEO, landing page, URL, Adwords, and on and on. You may deserve a break, but don't go to sleep because mobile marketing has arrived, and it's bringing a whole new set of terms with it.
What is a Mobile Keyword?
One of the new terms you'll begin hearing more and more as it relates to mobile marketing is "mobile keyword".
A mobile keyword is a single word that can contain letters or numbers and is picked by a business as the word to be sent via text message to a short phone number called a "short code". The purpose being that the person sending the keyword is volunteering to join a distribution list and receive further information.
Mobile keywords are similar to web addresses (URLs) in that they're only available on a first-come, first-served basis. All that really means is that a lot of common words may not be available, but any word that in some way is unique to your business will more than likely be available. Since the keywords are essentially rented, a word that isn't available now may become available when it's thrown back into the pool.
People are invited to send your mobile keyword to a number such as 63566 if they would like to receive an immediate benefit of some kind, like a coupon or discount, and also receive similar messages in the future.
Examples of Mobile Keywords
Keyword: HAPPYHOUR – A bar/nightclub owner might invite his customers to text HAPPYHOUR to 63566 to receive a coupon. When they do, he will collect their phone number, and they will immediately receive his reply message that says, "Thanks for joining our mobile club! Show this to your server and get 2 for 1 drinks all night. Reply STOP to end." He can now send marketing messages in the future to everyone who has registered.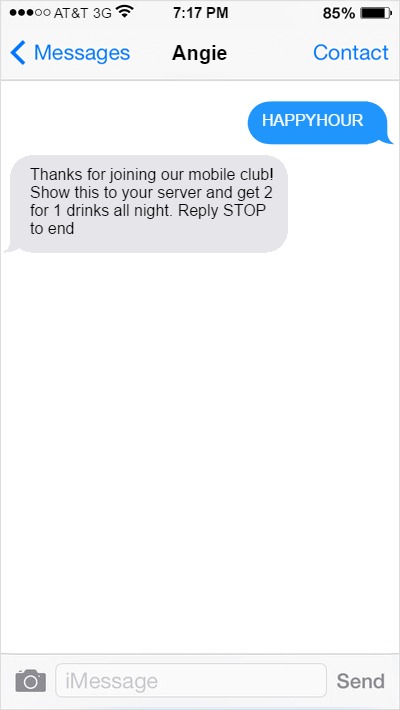 MOBILE MARKETING IS EFFECTIVE AND PERSONAL
Mobile marketing is a new marketing tool that can work extremely well for a lot of businesses. Since text messages get read 90% of the time, a well designed keyword marketing plan can typically result in a 25% response by the consumers. This kind of response is much higher than that of other traditional marketing methods like direct mail or email.
We recommend ProTexting.com for your Mobile Marketing needs.
If you would like to get started using mobile marketing to drive sales for your small business, please feel free to contact me today.