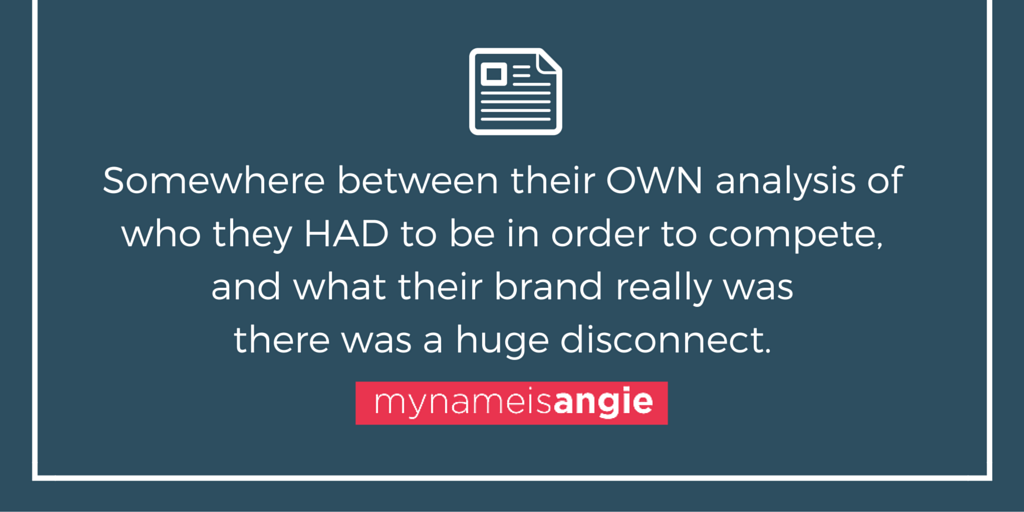 Law Firm Branding Workshop Case Study
We offer a solution for companies who have a misdirected message to market match. In our branding workshop, we help clients define their brand, users, users' needs and goals, and the best ways to deliver solutions for those needs in ways that can be measured.
Last year, a law firm approached us for a redesign of their website. They referenced their competitors' hard-hitting, in-your-face, "we'll eat the plaintiff and the plaintiff's grandmother for lunch" style of branding as they shared repeatedly what they wanted their new website to look and feel like.
We had worked with the client long enough to know this: that wasn't at all the style of their law firm. They weren't bossy and cold or shockingly direct with new clients. In fact, they treated clients more like family. Somewhere between their OWN analysis of what their brand HAD to be in order to compete, and what their brand really was there was a huge disconnect. And this, despite the fact that this firm was hugely successful in its niche.
A branding workshop can help your company FOCUS on what is already true or to help create a future that doesn't yet exist
As we led the branding workshop, the clients themselves revealed these elements which truly separate them from the sea of competition in Columbus law firms:
Their Product
The highlight of their experience is their trial law success in the DUI/OVI arena. They aren't just Lawyers, or just DUI/OVI lawyers, but amazingly successful TRIAL lawyers for serious DUI/OVI offense. Already, the "product" they were "selling" was refined.
Their Culture
They are teachers, professors, guides, who are invested in telling the irreverant truth to their clients. What does that mean exactly? As to where OTHER law firms might promise the moon, this law firm is totally willing to help a client understand the gravity of the charges and the most likely outcome even if that isn't in the client's favor. The truth is, when you have the record this firm does, you can afford to be honest with prospects about their situation because you know that if you DO have to go to trial, you're going to win.
Their Personality
They are casual, warm, and friendly. This doesn't mean they aren't serious professionals, but at the core of who they are, they are approachable. They understand that most of their clients do not want to be in their office.
The Users They Target
In working on their ideal user, we made an incredibly important and surprising discovery. Their previous marketing efforts had targeted the criminal; the person who actually committed the DUI/OVI crime. As we discussed who is actually the first point of contact with the firm, and who is the decision maker, it turns out it is not the criminal at all. It is more often a well-to-do female family member or pastor. She is most often engaged by the criminal, OR the mother of the criminal to help retain the services of a law firm and in fact, to lead the family through the process (including payment of the firm). The differences in what SHE needs from the firm in order to make a decision to contract versus what a criminal would need are vast. The emotions she is going through as she explores her options are entirely different than the criminal. Marketing to her looks different than marketing to the criminal. In fact, through this workshop we discovered a huge opportunity for this firm to increase their efficiency when onboarding new prospects by offering a video series of frequently asked questions this women is most likely to ask, and also a checklist of items and questions she would need to bring to their initial meeting. Because this woman wants to feel prepared when returning to her family (who expects her to somehow have all of the answers), both of these would help meet HER needs which in turn helps to meet the criminals.
The Value They Provide
The firm decided the value (the intangible feeling) they provide is one of non-judgement, and of safety provided by their competence.
The Benefit They Provide
A not guilt verdict (obviously), but also peace of mind whether the verdict is not guilt or guilty. That peace of mind is not dependent on the law firm itself because they can't change the facts of the situation, but rather on the fact that they know the law and prior cases better than any other trial law firm, and their record proves it.
We finished the branding workshop, sat back and looked at our whiteboard of notes and conversations that in essence, defined who this firm is, and guess what? It didn't look anything like their competitors' hard hitting, in your face brands. A new design for this firm COULDN'T look and feel like their competitor's because they simply weren't sharing that same message with their market.
A branding workshop can refine the direction of your marketing
Is your company crystal clear on its message to market match? Does what you say you are and what you have to offer match who you're offering it to? If not, we can help you straighten up with a branding workshop. After your branding workshop, if you need other services in order to best share your brand (like a website, content marketing strategy, email marketing, etc…) we can work together to build those based on the strong foundation created in your workshop.
Get in touch today to schedule your branding workshop.