Starting a blog is a lot like having a home. The whole point of having a home is to provide a place where your family and friends can relax, be themselves, and grow together. From the firepit in the backyard where you toast marshmallows in the fall, to the guest room with the fluffy pillows where friends sleep when they stay the weekend, to the fridge stocked full of healthy food and cold drinks – we do it so we can create a place for real community.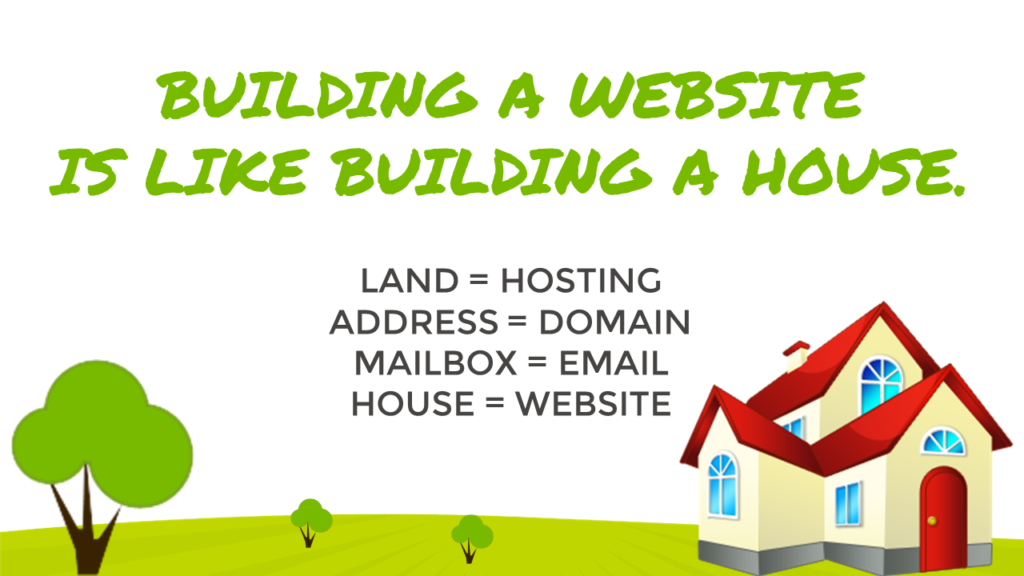 Your blog is the same way! And that's true whether you're using it for a personal blog, or for business. Your blog is an opportunity to share with others who you are and what you're about. In the process, you create a place where your readers grow closer to you, and to one another.
But before you can do any of that, you've got to build the house first! And building a website is a LOT like building a house.
The land for your house = hosting
The first step in building any house is to purchase the land where the house will be built. If your website is your house, then the "land" your website sits on is called "hosting."
You might hear terms like hosting, the cloud, servers, CPanel and more thrown around when talking about hosting. It can be a little confusing, so I'm going to break it down for you.
The files which comprise your website have to live on a computer somewhere that's accessible to the entire internet.  Your computer at home, and your internet connection, can't really support that very well. Computers that can are called servers, and hosting companies provide servers. So, to have a website accessible to the world, you need a hosting company.
What hosting company should I use?
Great question! I'm wild about GoDaddy's Managed WordPress Hosting. This is different than their normal ol' shared hosting (which I don't love).
Right now, you can get the Basic GoDaddy's Managed WordPress plan for just $1/month. The Basic plan is great for someone just starting their website or blog. You can always upgrade later if your traffic explodes or need additional features like a security certificate.
Years ago, when you bought hosting, you also had to install WordPress manually. That involved downloading the files from WordPress.org, creating a database on your hosting account, editing the wp-config file to match your database credentials…
Yeah. I know. For those who are technically-minded, it wasn't too hard. For those who are even the least bit scared of coding…it was enough to stop them in their tracks.
Then some hosting companies started offering a one-click install of WordPress. WordPress, along with lots of other softwares, could be installed on your hosting account with just the click of a few buttons.
That was a step forward, but the hosting account wasn't specifically FOR the software WordPress. And, once you installed WordPress, then you had to concern yourself with installing a backup solution, and security monitoring, picking out a great theme, keeping it all up to date… there was so much to do!
GoDaddy saw the need for specialized hosting just for people using WordPress. A few years ago, they bought one of the most well respected WordPress-specific hosting companies, Media Temple. The company they bought became the new "GoDaddy Managed WordPress Hosting" division. These guys know WordPress like the back of their hands. And, unlike other hosting companies who rely only on a bot or chat program to provide help, GoDaddy's Managed Hosting team will get on the phone with you to more quickly work through any questions you might have.
So what's so different about GoDaddy's Managed WP Hosting?
For starters, when you purchase a hosting plan, you'll get WordPress already installed. Their servers (the computers that host your files) are specially configured for hosting WordPress website. When WordPress releases an update, GoDaddy updates WordPress for you, automatically.
The other thing I love about GoDaddy's Managed WordPress Hosting is that they include training videos right in your WordPress dashboard. I've been using WordPress for over 13 years, and teaching WordPress for almost as long. WordPress IS easy to use once you get the hang of it. But…like any software or app, you've got a few things to learn before you can just breeze through managing your site.
The videos are straight from WP101 – one of my favorite resource for new WordPress users to learn their way around WordPress. From how to add content, to how to change your menu, to installing plugins, these videos are everything you need to get started mastering WordPress. Here's an example:
In the time it has taken you to read this far, you could have purchased your GoDaddy plan and been well on your way to finally launching your blog. 🙂
The address of your house = your domain
A piece of land for your house is great, but that land needs an address. Something you can give to someone when you want them to come visit. In terms of your website, that address is your domain. And, you want a "top-level domain" not a subdomain. A top level domain is like, mynameisangie.com while a subdomain is angie.wordpress.com. A subdomain is like a child of the top-level domain. When you purchase your GoDaddy account, you'll get a free year of domain registration. After that year, the cost is about $17/year.
Your mailbox  = your matching email address
After you've bought the land for your house, and registered an address, you'll want to make sure you can send and receive house warming invitations, right? Just like your house has a mailbox, you should have a matching email address to use with your website. Something like, angie@mynameisangie.com, rather than angie@yahoo.com.
Your email address is one of the best opportunities for sharing your brand, so don't waste it! When you purchase your GoDaddy account, you'll have the option to register for a free year of email, too (and they'll set it up so it matches the domain you registered the account with).
Your house = WordPress website
The last thing to do is to actually build your house! We suggest using WordPress to build your house… er, uh… website. WordPress powers over 30% of the websites on the internet, including some of the most highly trafficked websites in the world. You could use something else like Blogger, Wix or SquareSpace, but we're not talking about renting a house here, are we? We're talking about building a house that you can customize and do whatever you want with. A house no one can take away from you. A house you control entirely. If you want that kind of house, you want WordPress.
Of course, when you purchase a Managed WordPress Hosting account from GoDaddy, WordPress will already be setup for you.
After that, you get to move on to the fun stuff, like interior decorating! Decorating your website is done using a theme. The theme of your site doesn't change the content of your site, just like painting the walls of your house doesn't change how many rooms are in your house. It should only affect how your content is presented on your site.
GoDaddy includes several great themes with your WordPress installation. You can edit the content of those themes live on your site. Or, you can grab a theme from StudioPress, the makers of the Genesis framework which I love so much. Many of the most popular bloggers in the world use Genesis and a theme from StudioPress.
What next?
The technical side of starting your blog doesn't have to be hard. What used to take hours is now so simple and inexpensive using GoDaddy's Managed WordPress hosting.
What's next? Start writing and filling it with memories!
Click here to purchase your GoDaddy Managed WordPress Basic account for just $1/month.