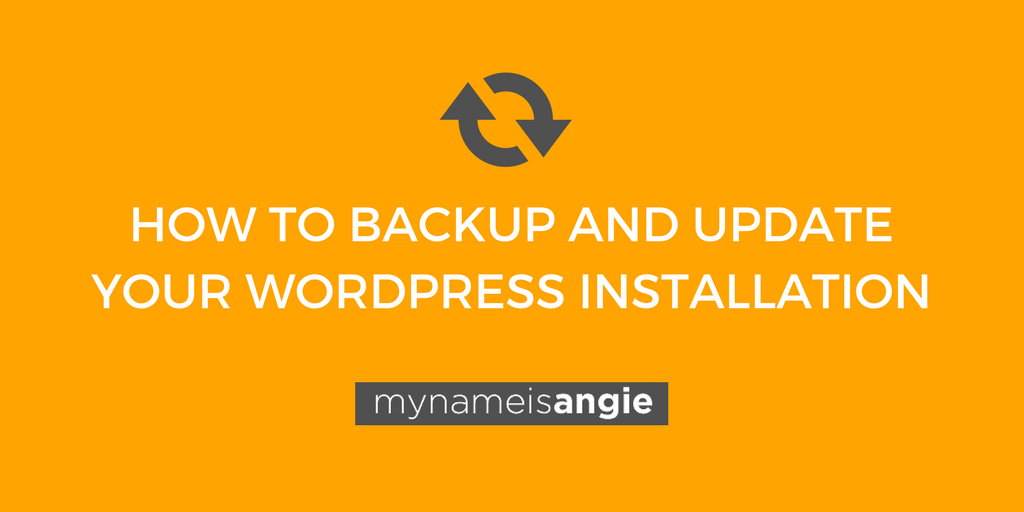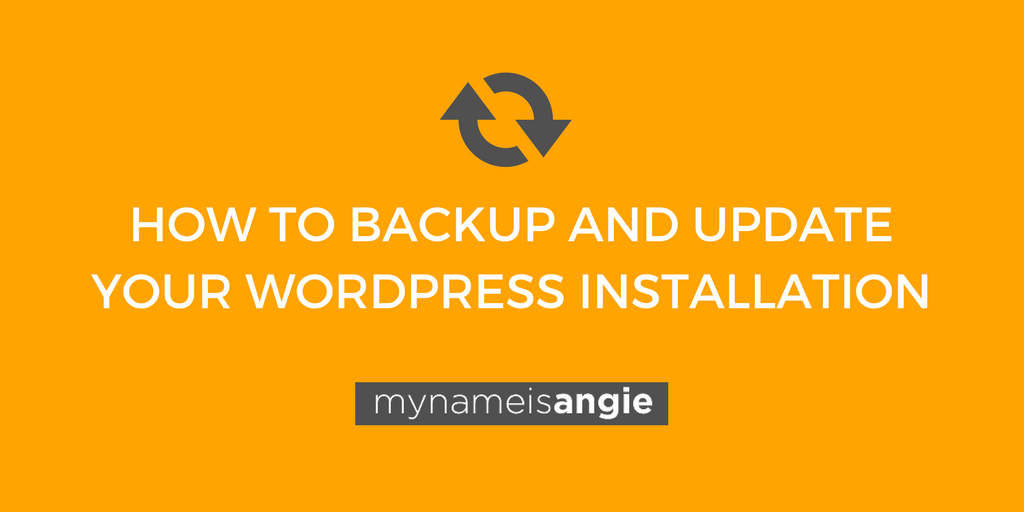 How to Backup and Update WordPress
I want everyone I know who uses WordPress to use the most recent version of WordPress. To help make sure you're comfortable doing that, I'm going to show you how to first backup, and then update, your WordPress website. 
Several times a year, the developers of WordPress release new versions of the software. For the most part, those major, planned releases include new features and improvements. In between the major updates, they may also release security updates. Hackers often look for websites with outdated software because the vulnerabilities of those versions are known.
This is particularly true with open source projects like WordPress, Drupal and Joomla since the release notes would include details of what was changed or improved, including security fixes. At the same time, the ability of open source development teams to quickly identify and release security updates is part of what makes using open source software so great!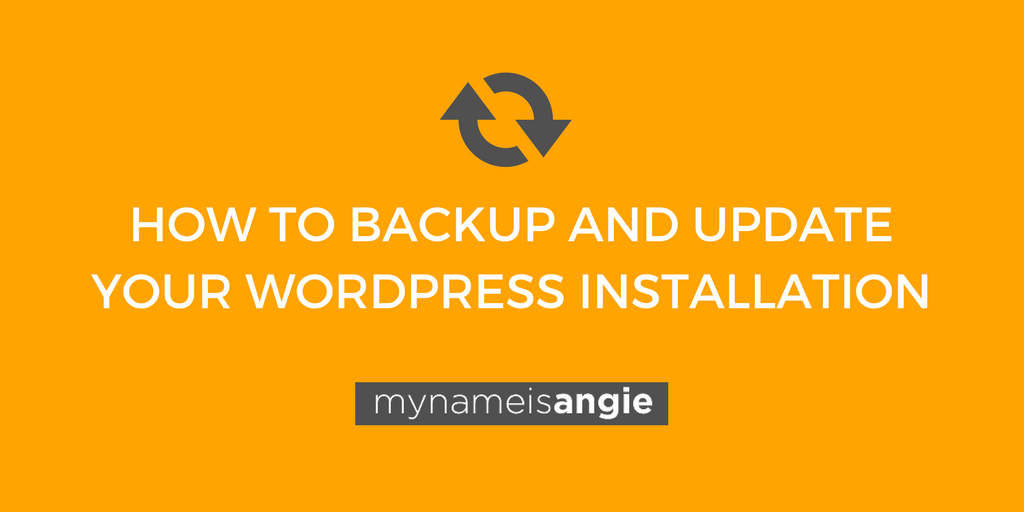 Many website owners are hesitant to UPDATE their WordPress installation because they're afraid something will break when they do. With WordPress releasing more frequent updates, this is becoming less common. However, I can't PROMISE that nothing will break when you update because you may be using a theme or plugin that is not kept up to date with WordPress standards.
The best thing you can do prior to updating is to create a full backup of your site. That way, if something goes really wrong, you can always restore the backup.
When you think of backing up your WordPress website, it's helpful to remember that your WordPress website consists of both files and a MySQL database. A full backup includes both the files and the database. A backup of the database can be helpful because it includes your actual content and settings, but without a backup of the files, you won't have your themes, plugins, or uploads like images and videos.
We will cover three ways to backup your website:
1. Using Tools>Export
2. Using Updraft Plus
3. Manually backing up via FTP and MyPHPadmin
---
Creating a Backup Using Tools>Export
Every WordPress website includes a simple tool for exporting the content of your site, found in the WordPress dashboard under Tools>Export. This export won't include your plugins, your theme, your settings, or anything like that. It's ONLY your posts, pages, custom post types, comments, custom fields, categories, tags, custom taxonomies, and users. It is the simplest, most basic backup of the most important information on your website: your content. When you click the Download Export File button, WordPress will create an XML file for you to save to your computer. That XML file can then be re-imported into another WordPress installation, or can be used to move your content to another CMS altogether.
Here's a quick video showing how to make a basic backup using Tools>Export:
---
Creating a Backup Using Updraft Plus:
An export of your content can be helpful, but it's certainly not what most people think of when they think of a "backup" of their website. A true backup of your site will include all of the files, plugins, theme, content.your database. To get that kind of backup, you can either do it manually (which we'll cover next), or you can use a plugin like Updraft Plus. Plugins like Updraft Plus allow you to create a backup from within your WordPress installation, and then send that backup where ever you'd like. Here's a quick video showing how to get started using Updraft Plus.
And, in the case that you need to then RESTORE that backup, here's how:
---
Manually Backing Up WordPress
Now maybe you're not a plugin kind-of-person. Maybe you like to get your hands dirty and would like to make a backup of your site manually. Or, maybe you don't have access to your WordPress dashboard at the moment and can't install UpdraftPlus. You can still create a backup by doing it manually. A manual backup of WordPress will result in a .zip file of your WordPress installation, and also a .sql export of the database associated with your website. Here's a great video showing how to get both parts of a manual backup:
And, in the case you need to then RESTORE those backups:
---
How to Update WordPress
Now that you've made a good backup of your WordPress website, you can breathe more easily when you update your installation. If a new version is available, you'll see a nag in your dashboard prompting you to update. Just click the link and follow the prompts.
For WordPress 3.7+, it's even easier. Since 3.7, you shouldn't have to lift a finger to apply minor and security updates. Most sites are now able to automatically apply these updates in the background. If your site is capable of one-click updates without entering FTP credentials, then your site should be able to update from (3.7 to 3.7.1, 3.7.2), etc. (You'll still need to click "Update Now" for major feature releases.) Some major hosting companies will even make these major updates (4.1, 4.2, 4.3, etc..) for you! One of the reasons I like Flywheel is because they do.
Updating can be done from within your Dashboard just by clicking the "Update Now" nag:
You can also update WordPress manually via FTP by replacing the previous version's files with the newer ones:
---
Conclusion
Updating WordPress doesn't have to be difficult. Make a backup first, and then confidently make your updates. If you have questions about how to make your backup or update, please feel free to ask below in the comments.
Even better, use a hosting company that takes care of all of this for you! I recommend Flywheel because every single night, they make backups of your website for you. And, whenever there's a WordPress update, they automatically apply the update for you.
Flywheel will even migrate your existing website to their servers for free. If you'd like to move your site to Flywheel, you can get started here. And if you'd like help moving your site to Flywheel, let me know – I'd be happy to help!